Membership Pricing
Membership Pricing
Four plans to help you focus on your work!
Need to come in daily?
Choose the Hot Büro or Dedicated Büro plans.
Have a full time job in the morning and need to work in the evening on your project/business?
Choose the Evening Büro plan.
Need a business address to get your mail and have Google Maps presence to meet clients once every so often?
Choose the Virtual Büro.
Plans designed to give you convenience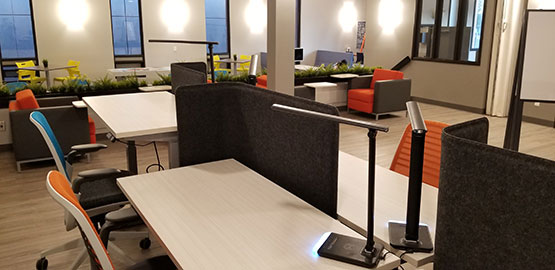 Virtual Büro

Monthly

$45.00

Have a business mailbox address and the option to meet clients here!

Includes:

Mailing Services:*

Mail/parcel receipt & holding

Use our address to incorporate your new business

Set up your Google Maps presence

Receive email notifications when mail arrives

Access to Collabüro Community

Access to Collabüro Private Events


Add-On:

15% off towards Booking Meeting Rooms
15% off towards Buying Day Passes
Digital Mail Forwarding - Scan your mail and email to you ($25/month)




* Pick up during business hours (9am-5pm on weekdays)

Evening Büro

Monthly

$119.00

Pick and choose a hot desk of your liking

after hours or on weekends!.

Includes:

Various Types of Workstations

Up to 1 Gbps Internet Connection
Unlimited Evening Access*
Coffee and Tea on the house
Access to Desk lamps & Wireless Phone Chargers
100 Pages/month Copy/Print**

& unlimited Scan

$100 Credit/month for Booking Meeting Rooms

Access to Collabüro Community

Access to Collabüro Private Events


Add-On:


Mailing Services ($30/month)

Private locker ($25/month)

20% off

towards

Meeting Rooms Bookings

20% off

towards Buying Day Passes


* Mondays-Thursdays 5pm-5am, Fridays starting 5pm and all weekends (Contingent to limited access on Fridays and weekends with main hall bookings)


** Additional pages at $0.35/coloured page and $0.10/black+white page

Hot Büro

Monthly

$239.00

Pick and choose a hot desk of your liking any time!


Includes:

Various Types of Workstations

Up to 1 Gbps Internet Connection
24/7 Access*
Coffee and Tea on the house
Access to Desk lamps & Wireless Phone Chargers
200 Pages/month Copy/Print**

& unlimited Scan

$200 Credit/month for Booking Meeting Rooms

Access to Collabüro Community

Access to Collabüro Private Events


Add-On:


Mailing Services ($30/month)

Private locker ($25/month)

20% off

towards

Meeting Rooms Bookings

20% off

towards Buying Day Passes


* Contingent to limited access on weekends (starting Friday after 5pm)


** Additional pages at $0.35/coloured page and $0.10/black+white page

Dedicated Büro

Monthly

$475.00

Enjoy your very own dedicated desk at

Collab

ü

ro!

Includes:

Dedicated Sit-Stand Desk with Programmable Height Memory
Up to 1 Gbps Internet Connection
24/7 Access*
Coffee and Tea on the house
Dedicated Desk lamp & Wireless Phone Charger
200 Pages/month Copy/Print** & unlimited Scan
$300 Credit/month for Booking Meeting Rooms
Mailing Services
Dedicated Private Storage***
Dedicated Outlets / USB ports

Access to Collabüro Community

Access to Collabüro Private Events


Add-On:


35% off towards Meeting Rooms Bookings

35% off

towards Buying Day Passes


* Contingent to limited access on weekends

(starting Friday after 5pm)


** Additional pages at $0.35/coloured page and $0.10/black+white page


*** Deposit of $20 is required for storage access key